Hearthstone's Newest Expansion : Kobolds and Catacombs!
The final Hearthstone expansion this year will be bringing back nostalgic memories for anyone who's ever played a tabletop RPG , as Kobolds and Catacombs shows you why you no take candle!
New Cards!
This expansion is going all out with amazing card ideas, such as a warlock card that starts off costing a large amount, but if you're willing to put the time in, you`ll obliterate your opponent's deck!
For those who long in shortly after Blizzcon 2017, you will recieve a free Legendary card from the expansion : Marin the Fox! Those who went to blizzcon or purchased the virtual ticket will receive a gold version of the card, to show off to all their friends!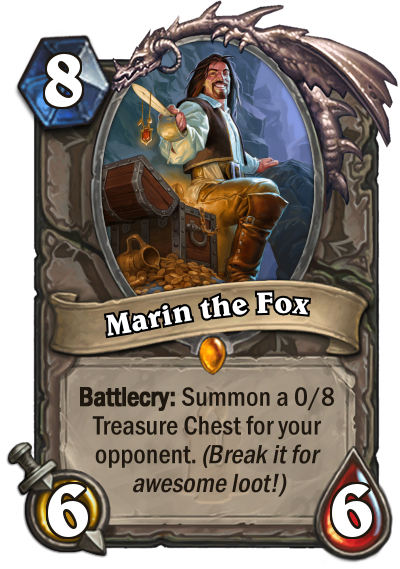 For those wondering what "awesme loot" is, heres a small sample of the potential treasures that may emerge:
Dungeon Mode
For the hearthstone player looking for some alone time, the upcoming Dungeon Run mode will pit you up against the Kobold`s worst dangers, as you are given a random deck and set to work delving the mysterious deep. As you progress deeper, your deck will become larger, but unfortunately so will the size of the monsters you`ll face!
In a rogue-like fashion, even one defeat sends you hurtling back to the beginning, so planning out your strategies will become a must as you keep coming back for even more punishment. Beat the dungeon with all nine classes for an exclusive card-back: the Candle King!
Recruit Your Allies
As seems to be the case with most Hearthstone expansions, Kobolds and Catacombs introduces a new mechanic keyword, this time being the word Recruit. The recruit mechanic summons a random minion from your deck directly to the battlefield. This can be devastating for any deck that wants to get their big guys on the board asap. keep in mind the mana cost however, as the price of power is always steep.
For more information on the upcoming expansions, check out the official expansion page here!
The following two tabs change content below.
With a sense of sarcasm as heavy as his logic is removed from reality, neoshadowzac is a british game reviewer who can tell you why he can see a plot twist coming from a mile away, while still screaming like a small schoolgirl whenever a game gets scary. His videos can range from lore videos with high detail, or just simple let`s plays of whatever game he can fin