Captain America : Civil War Review
Story
 Captain America : Civil War expertly carries on the plot threads from the previous marvel films, obviously following on from the winter soldier, but also in some areas directly referencing events that if some hadn't paid attention, may not have noticed the impact it had upon this film.  This can lead to some confusion for newer viewers, which is sadly a synptomn of the Marvel Cinematic Universe information lockout, but necassary for the story to move so smoothly
It is quite refreshing however,  to have a film take a step back at the carnage that a wide scale super-hero vs super-villain smack-down can create, showing that despite intentions, if you smash a building, people will get hurt, no matter how incredible the Hulk (who sadly is not in this movie, but for acceptable reasons).
For those who read the original Civil War comic arc, you will recognize a lot of elements in the film in terms of events like heroes coming to self-destructive confrontations, the struggle between ideologies , and the fallout that such an event can bring to the MCU. However this film takes extreme liberties with the concept, to avoid becoming simply a re-telling of an existing stories, spinning events into new perspectives, whilst maintaining a clear and easy to follow plot-line.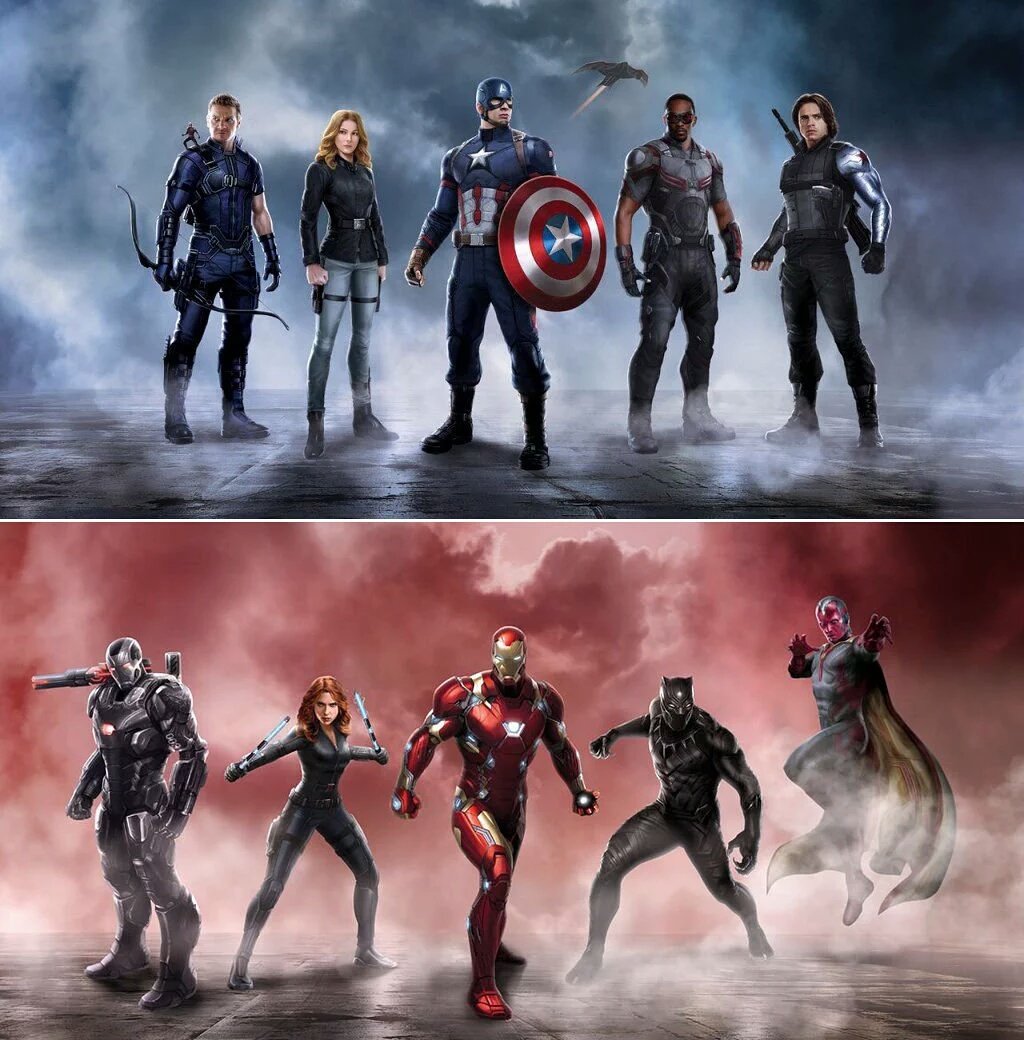 Characters
With such a wide arrangement of characters (even with a large amount shaved from the original story) many feared that anyone not named Captain America or Iron man would be  left out in terms of development.  Surprisingly in between the larger narrative, there's still still time to develop the inter-team relationships between old character's and the new, from Ant-man's  side noted warnings of not to trust a Stark from Hank Pym's experiences, to the visions growing humanity towards Wanda, whom is also dealing with the fallout of her hand to play in the climax of the previous movie. Spiderman is handled beautifully , flawlessly displaying his heroic traits, whilst also keeping the trademark humour and quips the character is loved for.
A major theme this movie carries for all the characters is identity, whether how other's see you affects who you are, and who should be held accountable for actions out of their control, using the destruction surrounding events the avenger's are involved with as its primary reason (despite most of those times not being in any way the Avenger's actual faults)
Whilst some see Tony Stark's stance as being illogical considering his personality as it's been shown previously, the film hammers in just how unsure he is of himself now, after his carelessness lead to disaster in Iron man 3, to how being over-protective ended with the creation of Ultron. Thankfully this leads to a much more developed characterization on Iron man's part, rather then the extensive derailing he received in the comics.
For Captain America, his arc mainly follows on from Winter Soldier, concerning his devotion to Bucky Barnes against all odds, once again bringing to the forefront his position as a man out of time, holding onto one of the last remnants of what he used to have in Brooklyn.  While many interpret his view as the "right" one in the argument, it is shown a steady amount of times that deep down, Steve needs a war to feel like he's accomplishing anything, to dangerous degree's at times.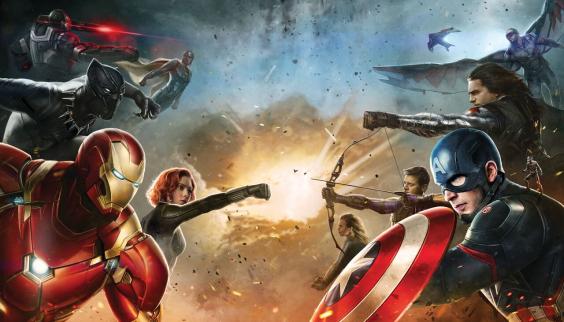 Length
For it's credit, the film has amazing pacing, without scenes feeling rushed or squished for the sake of getting along, thanks to its mind-blowing 2 hours and a half run-time. This can work to it's detriment sadly, as near the end it feels as though the film refuses to end, introducing scene after scene to fill space, wjich admittedly is necessary to resolve hanging plot threads, it does become slightly fatigued near the end, which as Cap says at one point "well it's been a long day" .
Action
As a much more "grounded" (as much as a superhero film can be) film then its predecessors, Captain America puts the super in super soldier as the beat-downs get much more intense, with the camera work showing the impact to make the viewer feel every punch they give. while at times it can make even trained special forces look like generic mooks, it puts much more meat behind it when foes can take multiple shots, allowing dizzying levels of action sequences, from Cap using his shield to absorb the impact from a long fall, to Spiderman's trademark hit-and-run style of fighting.
Thankfully the fighting never feels forced to fulfill some sort of superhero brawl quota, rather following the plot, and meaningfully progressing and expressing the character's emotions, with each hero using their abilities to their logical conclusions, resulting in scenes like Iron man using his repulsors mid-combat to knock opponents off guard, to Bucky using his robotic arm to block impacts and gunfire.
OVER ALL SCORE: 4/5 Shields to the face
Whilst this is  an amazing thrill-ride, it does begin to stretch itself near the climax, with one potientialy huge plot point summarily drop-kicked to keep the movie on schedule, which could easily have carried the movie by itself. No character acts out of place, whilst still creating new strings to follow, with newer characters like Black Panther and Ant Man's personalities organically meshing with the older Avengers, leaving nothing the same as it once was. Spiderman's triumphant debut to the Marvel cinematic universe is nothing but spectacular, with a promise of his return to come in the upcoming
Spiderman: Homecoming.
The following two tabs change content below.
With a sense of sarcasm as heavy as his logic is removed from reality, neoshadowzac is a british game reviewer who can tell you why he can see a plot twist coming from a mile away, while still screaming like a small schoolgirl whenever a game gets scary. His videos can range from lore videos with high detail, or just simple let`s plays of whatever game he can fin